The City of Amory is the fourth local power company across the Tennessee Valley to receive power!
In September 1934, one of our valued partners in Mississippi officially joined the TVA grid: Amory Utilities! We are proud to keep our 87-year partnership going strong.
#PublicPower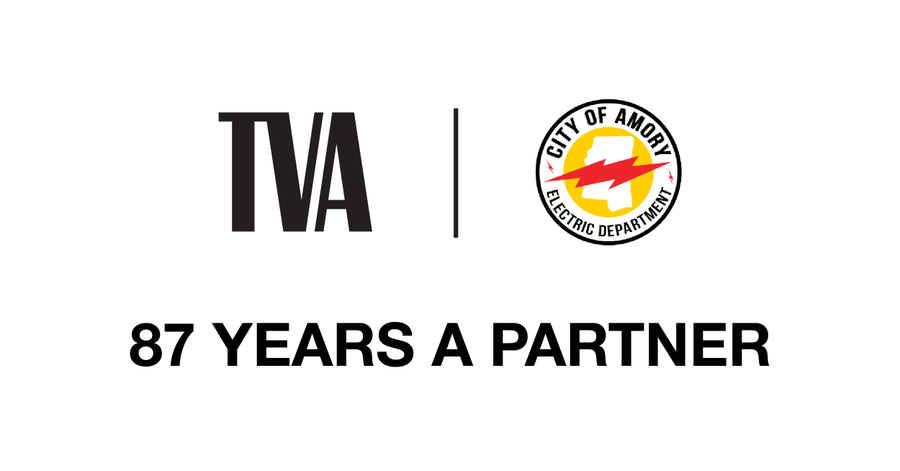 After Hours Issues
Please note that if you have power outage issues they may be very widespread. There are two lines available to contact when there is an outage or issue. Please know, however, that there may only be one person on duty to answer these calls as well as dealing with many other things at once as all other crews are out trying to restore power.
If you are still without power, please know we have crews out everywhere doing everything they can to restore your power safely. Our employees are working in adverse and dangerous conditions, so we ask that you please be patient and pray for their safety.
Call 662-256-5633 Monday through Friday 8:00 a.m. to 5:00 p.m.
After hours and weekends call 662-256-3931 or 662-646-0024 or 662-256-9363.
Bill Payment
Payments can be made at our office during the regular business hours, by mail, or by using our night or after hours depository. Two new options as of November 2016 are to pay online or via telephone. Click HERE to learn more:CLICK THIS LINK!!!!
UTILITIES DEPT WEB ONLINE PHONE PYMTS
or Call 1-866-550-5608
Payments may also be set up by Electronic Bank Draft – this convenient payment option ensures that the customer will always pay the net amount due without the hassle of writing checks or having to mail payments. The draft is sent to the bank on the actual due dates.
All payments may be mailed to:
City of Amory Utilities Department – PO Box 266 – Amory, MS 38821

Is your home energy efficient?
Click the TVA Icon link to access the TVA Energy Calculator to see how you can conserve power!

People
Mike King—Utilities Manager
Amy G. Payne —Utilities Office Manager/Electric Accountant
Mollye Guntharp—Utilities Assistant Office Manager/Water Accountant
Dana Baxter – Billing Clerk/ Meter Software Admin/Utilities Cashier
Brad Hale—Utility Department Operating Superintendent
Mitch Minga—Water Operating Superintendent
Anthony Brown—Water Treatment Plant Supervisor
Utilities Department Contact
129 Main Street North or PO Box 266, Amory, MS 38821
Call 662-256-5633 Monday through Friday 8:00 a.m. to 5:00 p.m.
After hours and weekends call 662-256-3931 or 662-646-0024 or 662-256-9363.
Interested in Employment?
UTILITIES Application for employment 2021
Programs
TVA Heat Pump Program
TVA and the City of Amory utilities offer the Energy Right Heat Pump Plan to you at no money down, low interest rates, and up to ten years to pay for energy efficient central heat and cooling pump systems. All you do is make monthly payments on your utility bill.
Energy Right Residential New Homes Plan
Provides attractive cash incentives for a new home being built.
Security Lighting
The outdoor security light turns on at dusk and off at dawn. For a small monthly fee, the City of Amory Utilities provides the light, pole, installation, electricity, and maintenance.
Links and Helpful Information:
Documents

If you have an unresolved issue or complaint regarding your electric service account that cannot be resolved by the Amory Utilities, TVA may be able to help. Click this link to learn more: